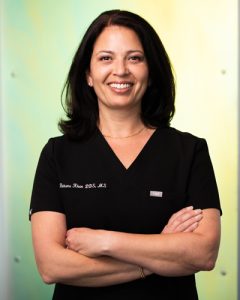 Dr. Rehana Khan holds a master's degree in orthodontics from Loma Linda University School of Dentistry (LLU) in Loma Linda, California. Prior to completing her postdoctoral orthodontics residency in 2005, Dr. Khan earned her degree in general dentistry from LLU and completed the Dental Board of California licensure examination and the Western Regional Board examination in 2002. While studying general dentistry, Dr. Khan was recognized for outstanding scholarship and earned many academic awards, including honors from the American Academy of Oral Medicine, the International College of Dentists Outstanding Achievement Award, the LLU School of Dentistry Academic Excellence Gold Award for Performance on Parts 1 and 2 of the National Boards, the Teaching Learning Center Special Achievement Award, and others.
In 2004 and 2005, Dr. Khan was an adjunct assistant professor in oral and maxillofacial surgery at LLU School of Dentistry. Between 2005 and 2011, she was an associate at Harbor Dental Associates in Harbor City, California, working alongside Dr. Richard Simms, a renowned orthodontist who has been in practice for almost 50 years. She is currently part of the clinical faculty at the Loma Linda University School of Dentistry department of orthodontics. Since having her own practice, Santa Monica Orthodontics, Dr. Khan enjoys providing the highest quality of comprehensive orthodontic care to patients of all ages in the community to which she and her family are proud to belong. She gladly serves the west side and greater Los Angeles area, as well as Pacific Palisades, Beverly Hills, Culver City, Venice, Mar Vista, Palms and Santa Monica, California.
Dr. Rehana Khan is a member of the American Dental Association®, California Dental Association and West Los Angeles Dental Society.